>

Autarky Adult summer dog food 15KG (Chicken dinner)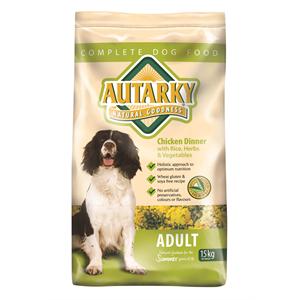 Autarky Adult summer dog food 15KG (Chicken dinner)
SKU:
Top quality dry dog food Autarky summer chicken dinner. This is for active dogs no longer growing, 24 months to 7 years.

Autarky dog fod is wheat gluten & G.M free.

TO ORDER CALL 07927 256 100


Autarky summer adult dog food chicken and rice (15kg) is a complete wholesome diet, designed to address the specific nutritional requirements of adult dogs. This diet contains fresh chicken and rice, alongside vegetables and herbs to ensure your adult has has all the goodness required to lead a healthy and active life. This diet will help with muscle maintenance, immune support, skin and coat condition and joint health.
​

Ingredients
:
Maize, chicken meat meal, rice, chicken fat, green vegetables, carrots, whole linseed, prairie meal, yeast, herbs, spices, seaweed, yucca extract, with EC permitted antioxidants: mixed tocopherols, vitamin C and rosemary extract.
​
Analysis:
Protein
: 22%
Vitamin
A: 15000 iu/kg
Fibre
: 3%
Vitamin D
: 1500 iu/kg
Oil
: 12%
Vitamin
E: 150 mg/kg
Ash
: 6.5%